Want to push and pull some Base64 from SharedPreferences? You'll need to do some String to byte[] conversion to get it done. First, I (foolishly) tried using toString() on a byte[] but that won't work! The String constructor saves the day!
// Encoding




String

 

encodedString

 

=

 

new

 

String

(

Base64

.

encode

(

string

.

getBytes

(),

 

Base64

.

DEFAULT

),

 

Charset

.

defaultCharset

());





// Decoding - Base64.decode() this can throw an IllegalArgumentException so best to try-catch!




String

 

decodedString

 

=

 

new

 

String

(

Base64

.

decode

(

string

.

getBytes

(),

 

Base64

.

DEFAULT

),

 

Charset

.

defaultCharset

());
Evernote's first hackathon is complete! Evernoters took the week to work on some really awesome projects. My project was pretty simple, but satisfied a critical need: building a system for people to quickly give feedback on their meal. Evernote has catering bring in delicious food for us to enjoy five days a week. When the facilities team tries out new caterers, they want to know what Evernoters think about the meals. This project allowed feedback to easily be given, collected, and reviewed.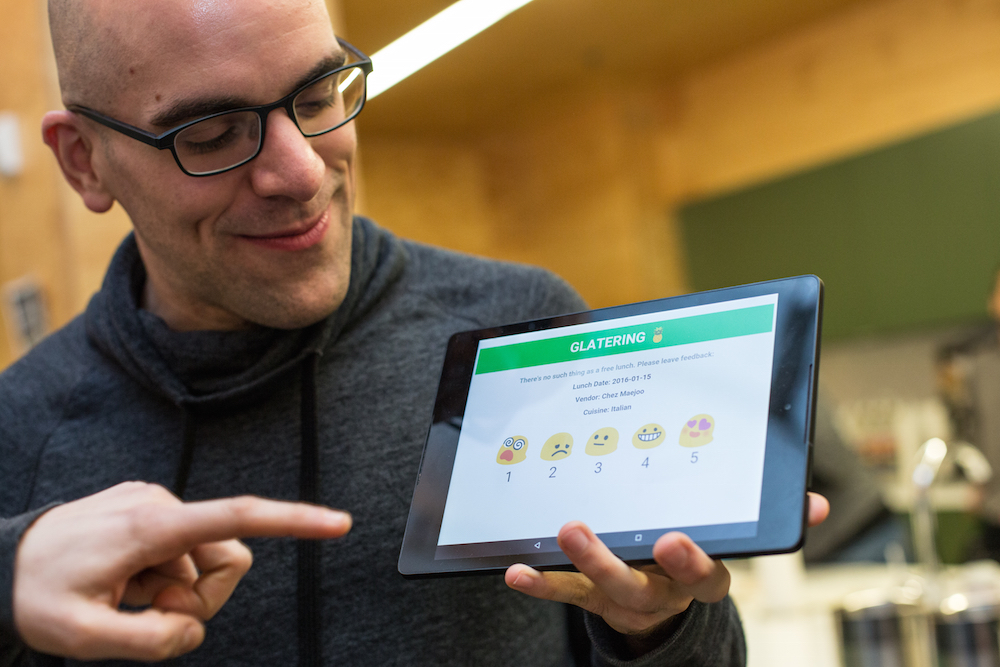 As with most things programming, bootstrapping is always the hugest pain. I settled on building a back-end service in Rails that allows the facilities team to input information on lunches, view information for all lunches on a sweet-looking dashboard, and a voting API for clients to call. Everything is driven from webpages, but we built a simple Android app to wrap the whole thing nicely. My Chief Design Officer, Justin, made everything look delicious.
For having the most honorable project we won Honorable Mention at the awards ceremony. There were a ton of amazing projects, including a bunch of awesome additions to the core Evernote product. I'm super excited to see these getting rolled in and released to Evernote customers around the world.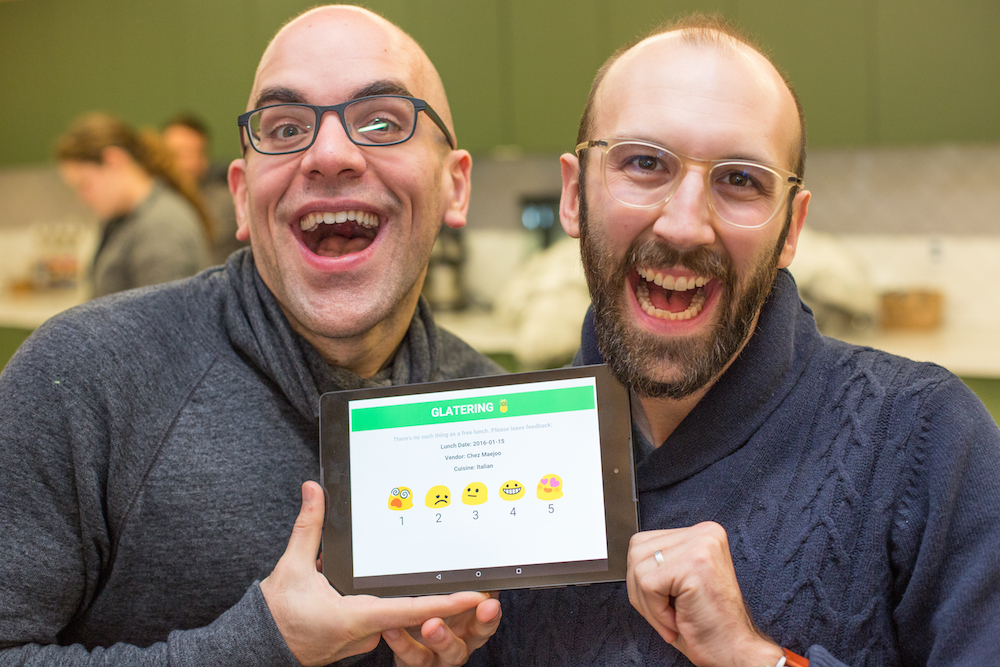 Read more about the Evernote Hackathon – and watch the hype video – on the Evernote blog. If you want to have fun with us, you're in luck; Evernote is hiring! Check out the Careers page for open opportunities and hit me up if you are brave enough to work with me!
SPOILER ALERT: Skip this post if you haven't watched Star Wars: The Force Awakens.
The first Star Wars episodes released – 4 through 6 – are collectively referred to as the original trilogy. Episodes 1 through 3, which predate the events in the original trilogy, comprise the prequel trilogy.
After watching The Force Awakens, I think we are in the midst of the transition trilogy. The general theme of the transition trilogy? See old talent out the door as new talented is ushered in. Han kicked the bucket in episode 7. I predict Luke and Leia are in for unfortunate times in the next two episodes.
Transitions… They happen sometimes.
The first time I sat down with Xenoblade Chronicles X, I felt – in the best way possible – totally overwhelmed. Having spent plenty of time with the game now, I've learned a lot along the way. The game doesn't hold your hand very much so as I convince friends to take the dive into Mira, I decided to prepare a spoiler-free list of quick-start tips to help them get started.
Read the manual and watch the Survival Guide video series. It's pretty daunting at 142 pages, but the manual has lots of useful information. I read it piece by piece while I was taking a break from the game. Also very useful are the survival guide videos by Nintendo. Except for the annoyingly (and unnecessarily) sassy narrator, the videos are very useful in getting you started on Mira. If you only want to do the bare minimum I recommend watching the Your New Home, Planetary Defense, and Mining Your Own Business videos.
Turn subtitles on. This game unfortunately suffers from some questionable sound design decisions. Songs with lyrics play during scenes where characters are conversing and even worse, the audio is terribly balanced which results in characters' words getting drowned out in the background song. Turn on subtitles and read your way through this flaw.
Early on feel free to explore and plant data probes. Don't feel like you need to rush through the story missions. Most story missions require you to explore a certain percentage of Mira so running around and planting data probes early on is required encouraged. Exploring will also open up fast-travel points so you can move around more efficiently later on.
Read More
It's finally here! After waiting for what's seemed like an eternity – from the reveal trailer in early 2013 – Xenoblade Chronicles X for the Wii U has finally landed on North American shores.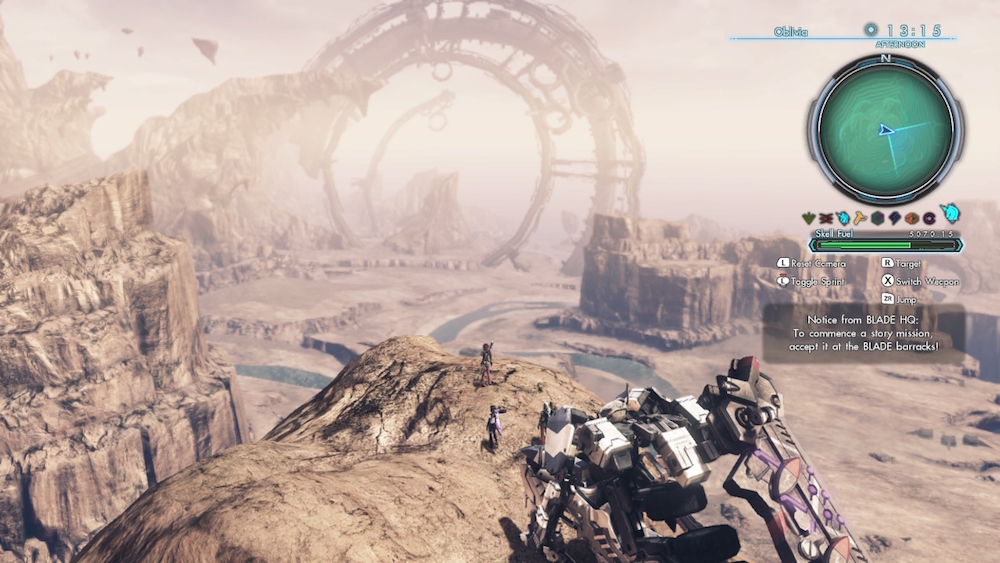 I've put a few hours into the game and there is one word that describes how I feel right now: overwhelmed. It's not that bad, suffocating overwhelmed feeling; it's a pleasantly-smothering eagerness to take on a daunting task.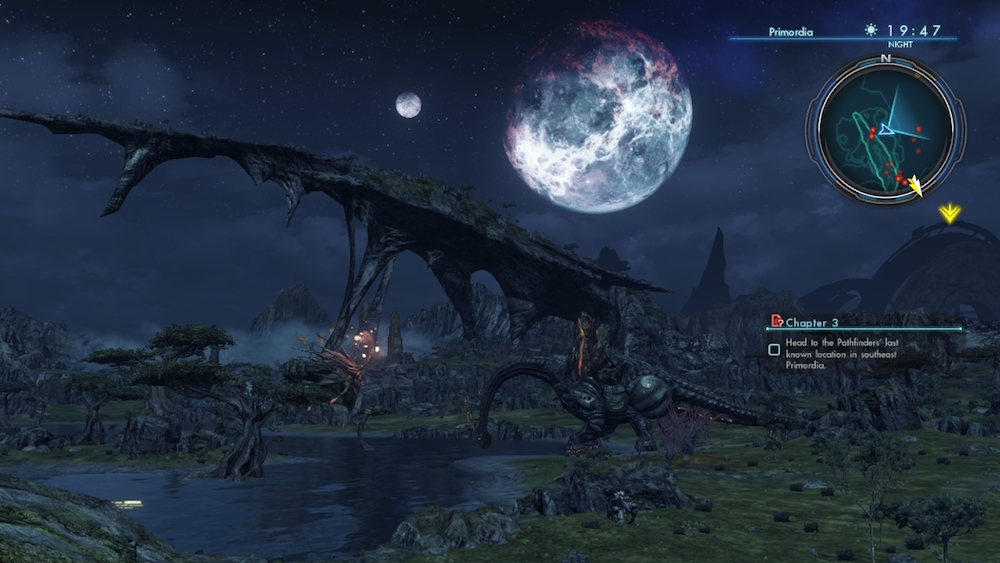 I knew the open world in this game was huge, but the amount of things to do and game mechanics to explore are equally large in scale. I'm beyond excited to dive in and explore the world of Mira! Christmas has certainly come early for me this year for me!