Combating macOS Planned Obsolescence
26 Apr 2019
My 2012 MacBook Pro is still chugging along and can install the latest macOS Mojave but my primary computer at home, a 2008 Mac Pro, is stuck on the 2015 iteration of macOS: El Capitan.
The largest driver of obsolescence on Apple computers right now is the yearly macOS update cycle.
I felt the burn most recently trying to get 1Password 7 only to find it requires macOS Sierra or higher. Have no fear, Internet to the rescue! A true hero, dosdude1, built a tool that allows installing macOS High Sierra on unsupported Macs. This is similar to the Pikify App I used to install El Capitan on my cousin's first generation Mac Pro.
A few hours later… Success!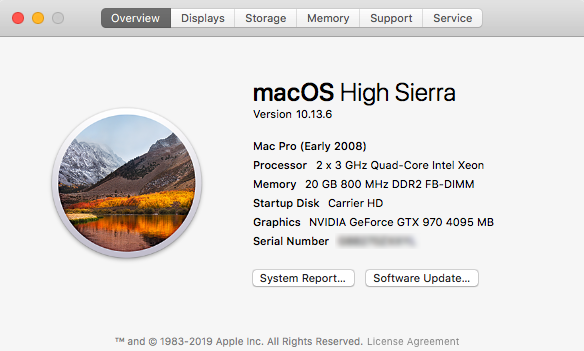 With High Sierra now installed I'm confident this 2008 Mac Pro can carry me well into the 2020s. Take that Apple!